Shipping containers are high-quality, reliable, and reusable. Many companies will reuse their shipping containers for years and without failure. Even after their regular use is over, companies will buy other companies' shipping containers and repurpose them for a wide variety of commercial and residential needs.
New shipping containers are used for an average of 8-12 years. They are used extensively by shipping companies during that time and then, are sold off to third parties.
The reason why shipping containers are removed from circulation is often because of the maintenance required to ensure a container meets international shipping standards. There are strict laws on how shipping containers are to be built and maintained, and due to the costs involved, buying new while recouping costs during the sale of used shipping containers is an optimal move a lot of companies make.
In this article, we look at how many times shipping containers are used and how they can be purposed in their later years.
Why Shipping Containers Are Used And Reused
Shipping containers are wind-resistant, water-tight, steel-fabricated rooms. They form one of the most durable rooms you can buy and can withstand everything from frequent transportation to harsh weather.
Customize your shipping container to your needs. Adjust the layout and structure. Make modifications, such as with lighting, electricity, plumbing, air conditioning, shelving, dividers, and more. You may also stack shipping containers to create even larger spaces for residential or commercial purposes.
Already extremely mobile, shipping containers are portable and can be delivered to any location on a flatbed truck with ease. They are made for transport which makes relocation, removal, and reuse simple and straightforward to arrange.
Shipping containers are extremely space-efficient, varying in size from lengths of 10 feet to as much as 40 feet and larger. Combine them horizontally or vertically and don't worry about having to expand or build support structures. It's steel!
Another key advantage to reusing shipping containers is that they are eco-friendly and sustainable. Steel is a highly recyclable material. It's more environmentally friendly and less wasteful than bricks, cement, and similar materials. When you choose to purchase or rent a used shipping container, you're saving thousands of pounds of steel.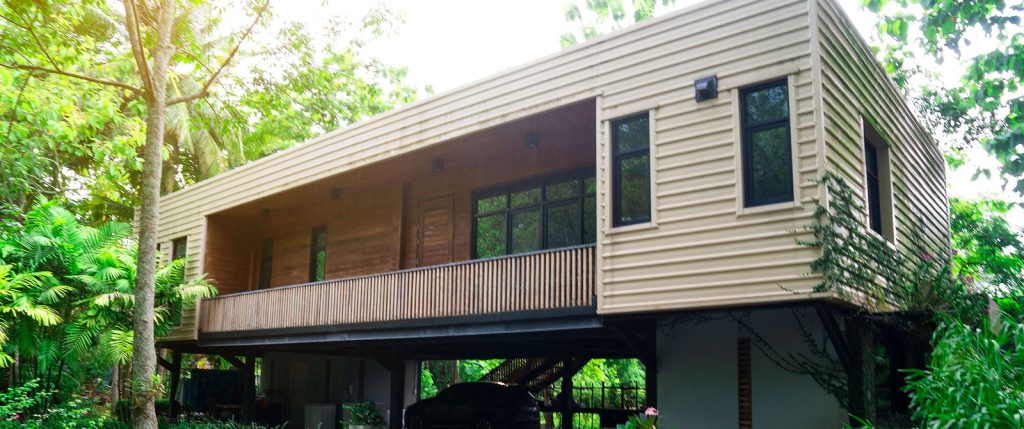 How Shipping Containers Are Used
Shipping containers are used for storage and transportation. They are typically reserved for large, bulky, and heavy cargo. This type of container is made from high-grade steel and are the go-to way to transport large, heavy cargo overseas. They get stacked on ships and transported over long distances without issue.
After they are taken out of circulation, you often see shipping containers turned into commercial and residential storage facilities, refrigerated storage rooms, restaurants, bars, retail stores, workshops, small offices, and a wide variety of ground-level structures and spaces.
How Long Can Shipping Containers Last?
It's not uncommon for a reused shipping container to last 30 years or more. If you're using them for transportation, you may limit its use to 15 years or more depending on how well it's maintained. For extended use, such as if you're using a container to convert into an office or ground-level business, you can receive decades of use from one.
A used shipping container is also very cost-efficient, costing about a sixth of the cost of a new container.
How Many Shipping Containers There Are In The World
It is estimated that there are more than 16 million shipping containers in use worldwide. Of these, only 6 million are used for overseas transportation. The remainder are used for other purposes and a large percentage of these are reused or repurposed.
A shipping container is easy to repurpose. They are sustainably produced, cost-efficient, and space-efficient. They have been used to create storage rooms, to store building materials, to create offices from, to make homes with, and more.
Different Types Of Shipping Containers By Use
Shipping containers are sorted by grades and defined by the overall condition they are in.
New Shipping Containers
These are the best quality shipping containers you can buy and have under 1 year of use to them. They are in excellent condition.
Premium Shipping Containers
These are the second highest-grade shipping container in use, having been inspected and certified to meet all repair standards. They have usually been in use for 2-8 years with little to no damage.
Grade A Shipping Containers
These shipping containers are wind and water-tight, usually having been in use longer than eight years, and have little to no damage or rust.
Grade B Shipping Containers
Shipping containers in this category are similar to Grade A, however, they are not certified to ship cargo overseas. Grade B containers are meant to be used for storage and may have a significant amount of rust or damage.
Refurbished Shipping Containers
These used shipping containers have been repaired, such as removing dents, replacing damaged flooring, installing new doors, and often repainting them.
As-Is Shipping Containers
These shipping containers are purchased without inspection or certification. They may have rust, dents, flaking paint, and punctures. For a container as-is, they are meant to be fixed up and repaired by the new owner.
How To Expand Life Expectancy Of A Shipping Container
A shipping container's lifespan can be fairly lengthy if they are properly maintained. While shipping containers should be able to withstand a lot, they can still encounter difficulties. Wetter, saltier climates are known to wear down the outside. The more moisture exposure, the worse the condition the shipping container may be in. For this reason, many recommend storing a container off the ground to prevent the base from sitting on damp ground and absorbing moisture.
All in all, if there is an issue with your shipping container or maintenance to do, ensure it's done in a timely manner.
Find New & Used Shipping Containers That Are High-Quality From Ironclad Containers
With a decade of experience working with shipping containers, we offer the best in service to our clients. If you're looking for high-quality shipping containers, we have them both for sale and for rent. Located in Bradford, Ontario, north of Toronto, we offer a wide variety of sizes and configurations with shipping containers for every purpose. Receive competitive pricing, financial options, and more from Ironclad Containers. Contact one of our reps today to find out more about our ISO-approved and certified shipping containers ready for use.
---
Shipping Container Rental
---
Want rental services? We have some guidelines to help you!
Looking to Purchase?
---
If you are a Purchaser? We have some guidelines to help you!
Related Articles