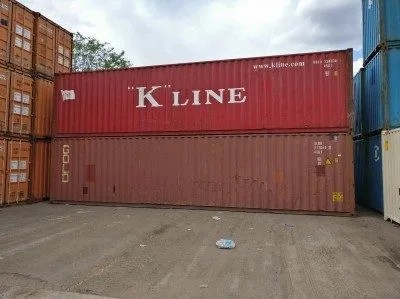 Used Shipping Container 40′ x 8′ x 8'6″
June 17, 2022
Used Shipping Container 40′ x 8′ x 9'6″
June 17, 2022
New Shipping Container 40′ x 8′ x 9'6″
Dimensions
Length – 40′
Width – 8′
Height – 9'6″
Colours
Usage
Maximum Gross Weights
40' containers:
30 480 kg (67 200 lbs.)
General purpose container 40'
Suitable for any normal cargo;

Various lashing devices on the top and bottom longitudinal rails and the corner posts.

Lashing devices have a permissible load of 1 000 kg (2 205 lbs.) each;

Note permissible weight limits for road and rail transport.
Material
Cor-Ten Steel – Corrosion-resistant Steel, corrugated panels for walls and roof, hardwood flooring – Made in China.
Availability
Available within 2-4 business days for delivery
Special Features
Water and Airtight, completely sealed, durable.
Options of delivery
Delivery is arranged with tilt and load trucks, so no requirement for additional equipment on the receiving end, only ample space. Delivery has to be quoted in a case-by-case scenario. Customers are welcome to arrange their own transportation.
Maintenance required
We do not provide any additional warranties, all sales are final. However, if the container is delivered to a customer and is damaged (leaks, holes, doors, and hinges issues) we can send a mobile repair Unit for the fix.
Price
Please contact us for the price.