Used Shipping Container 20′ x 8′ x 8'6″
June 17, 2022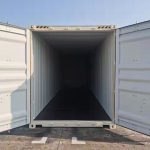 New Open-Side 40′ High Cube Shipping Container
April 20, 2023
New Open-Side 20′ Shipping Container
Description
Exterior:
8′-0″ Wide x 20′-0″ Long x 8′-6″ High
Interior:
7′-8″ Wide x 19′-4″ Long x 7′-10″ High
Capacity:
1300 Cubic Feet
Enough to fit:
3 bedroom home with no appliances
Feature:
The 2 Swing Doors open the whole side
Open-Side 20′ Shipping Container – a revolutionary storage solution that's built to last! This industrial-strength container offers massive capacity, measuring 8 ft wide x 20 ft long x 8.6 ft high, with interior dimensions of 7'8″ x 19'4″x 7'10". That's enough room to fit a 3-bedroom home with no appliances – up to 1300 cubic feet of space!
What makes the Open-Side 20′ Shipping Container so unique is its innovative side-opening feature. Both swing doors open easily and completely, giving you effortless access to your stored items without ever having to climb onto the roof or unload materials from an overhead door. In addition, its robust steel construction is designed to weather stormy seas and fierce winds – perfect for both land and marine transportation.
Whether you need a mobile storage unit or reliable shipping solution, this dependable container is an ideal choice for any business or individual that requires sea cans for their needs. With unbeatable protection and limitless convenience at your fingertips, you can be sure your goods will reach their destination safely and securely. Don't delay – get your own Open-Side 20′ Shipping Container today!
Please contact for pricing and availability.